Site Coordinator's Message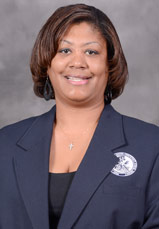 West Orange-Stark Academic Alternative Center (AAC) is a school designed as an alternative to expulsion. As the leader of the WOS-AAC, my goal is to give the students the opportunity to reform. The structured environment will provide students the chance to learn from his or her mistakes, catch up on academics, and make better decisions in life. The ultimate goal is for all students to be successful.
My philosophy in education is you must teach students how to behave and make good decisions, just as we teach them academics. If they have never been taught personal skills, they may not know what's appropriate in many situations. In other words, don't assume anything, teach them!
The staff and I look forward to working with students and their parents so that students may return to their home campus prepared for success.
Sincerely,
Beverly Richard Robinson, WOSAAC Site Coordinator